Primary 1
Welcome to Primary One!! School days really are the best days at Roe Valley Integrated Primary School.
This month in Primary One we are learning all about Winter. We will be finding out about hot and cold and creating our very own artic corner!!! During our play we will have the opportunity to complete some cool experiments with ice as well as create our very own snow!!! Winter is going to be so much fun!!
Phonics is an approach to reading and spelling that builds on speech. Children begin by listening to words that they say everyday: noticing syllables, rhyme and eventually individual sounds. We will be learning 4 sounds a week. One every day and then reviewing them on Friday. This month we shall be revisiting all 26 sounds that we have already explored in term one , before we venture into reading in February.
You can help at home by singing the Jolly Phonics Songs (Phase 2 link) (Phase 3 link) and reading every day.
Class Photograph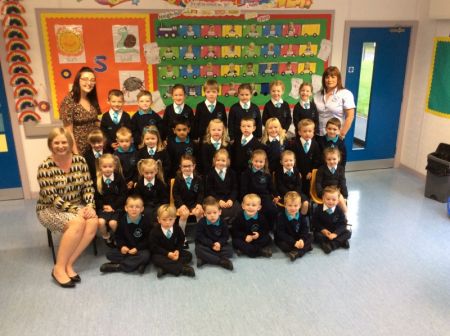 &nsbp;
Roe Valley Integrated Primary School 153 Roe Mill Road
Limavady Co L/Derry N Ireland BT49 9EX

Tel: 028 777 68695
E: info@roevalleyips.limavady.ni.sch.uk
WEBSITE BY: SCHOOLWEBDESIGN.NET | Login